Rethinking the Food Production System
Posted on December 29, 2008 Comments (5)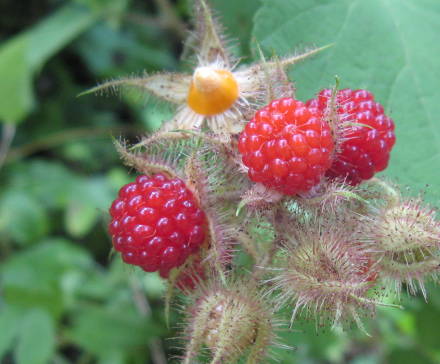 photo by
John Hunter
of wine-berries from his Garden.
Food needs 'fundamental rethink'
The new approach needed to address key fundamentals like biodiversity, energy, water and urbanisation, he added.
…
Water scarcity: "One of the key things that I have been pushing is to get the UK government to start auditing food by water," Professor Lang said, adding that 50% of the UK's vegetables are imported, many from water-stressed nations.
Biodiversity: "Biodiversity must not just be protected, it must be replaced and enhanced; but that is going to require a very different way growing food and using the land."
…
"In Europe, 30% of the food grown did not appear on the shelves of the retailers because it was a funny shape or odd colour.
…
"The way that seeds are selected is about immunity to any known disease; they have also got to grow big and fast, and have a fantastic shelf life. "Never mind taste, texture or nutrition, it is all about how it looks.
I agree. The food system is broken. We have moved to mono-culture food production. We have changed our diets to eat food like concoctions. We need to return to healthier and sustainable food production.
Related: Grow Your Own Food and Save Money – Protecting the Food Supply – Eat food. Not too much. Mostly plants. – The Science of Gardening – Pigs Instead of Pesticides – Obesity Epidemic Explained – Kind Of