Reducing Poverty
Posted on October 15, 2008 Comments (6)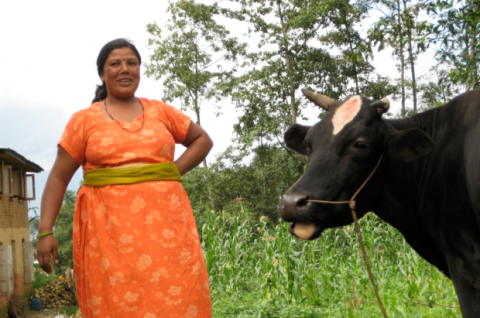 Today is blog action day, which this year is focused on poverty. We have highlighted various uses of appropriate technology, many of which help those in poverty improve their lives. Such as: Water Pump Merry-go-Round and Smokeless Stove Uses 80% Less Fuel.
I am also very interested in using micro loans to help entrepreneur improve their lives – I have written about Kiva before. Kiva fellows are funded by Kiva (fellows are unpaid) to go to spend time in the countries Kiva facilitates loans for working with the local partners. This post is about Rita Bashnet (in photo) an entrepreneur from Nepal:
Field visits are by far the best part about being a Kiva Fellow. You're given the opportunity to hop on a motorbike, hike up a village trail, and actually see the impact of a Kiva loan firsthand.
…
Five years ago, Ms. Rita took her first loan of NRs. 10,000 (USD $150) and purchased some extra seed and fertilizer in the hopes of expanding her small vegetable patch. With the profits from this initial investment and a second loan from Patan Business and Professional Women (they offer a graduated loan program), she then purchased her first dairy cow.
…
After hearing about a program that subsidized the installation of methane gas storage tanks, Ms. Rita took another loan and applied for the program. With this new system, she is now able to capture the valuable gas released from her cow's waste in a simple controlled-release storage tank. Today she no longer purchases gas from the city and can even sell some during times of shortage.
…
Ms. Rita exemplifies the potential of microfinance. A combination of access to capital and strategic investment has allowed her and her family to drastically improve their economic situation in a short five years.
Great story, and exactly my hope for using capitalism to improve the standard of living for people around the globe.
If you haven't loaned money through Kiva, please consider it now. If you do (or already have a Kiva page), send me your Kiva lender link and I will add it to Curious Cat Kivans. I would love to add more of our readers to that page.
Related: Using Capitalism to Make a Better World – Appropriate Technology – Fixing the World on $2 a Day – Trickle Up