Neuroengineers Use Light to Silence Overactive Neurons
Posted on March 31, 2007 Comments (1)
MIT neuroengineers' pulsing light silences overactive neurons:
The work takes advantage of a gene called halorhodopsin found in a bacterium that grows in extremely salty water, such as the Great Salt Lake in Utah. In the bacterium, Natronomas pharaonis, the gene codes for a protein that serves as a light-activated chloride pump, which helps the bacterium make energy.
When neurons are engineered to express the halorhodopsin gene, the researchers can inhibit their activity by shining yellow light on them. Light activates the chloride pumps, which drive chloride ions into the neurons, lowering their voltage and silencing their firing.
…
The group also plans to use the new method to study neural circuits. Last year, Boyden devised a technique to stimulate neurons by shining blue light on them, so with blue and yellow light the researchers can now exert exquisite control over the stimulation and inhibition of individual neurons. Learning more about the neural circuits involved in epilepsy could help scientists develop devices that can predict when a seizure is about to occur, allowing treatment (either shock or light) to be administered only when necessary, Boyden said.
Related: Nanoparticles to Aid Brain Imaging – Feed your Newborn Neurons – Nanofibers Knit Severed Neurons Together
USC Innovation Institute Reinventing Itself
Posted on March 31, 2007 Comments (0)
USC innovation institute reinventing itself:
Established in 2004, the institute was originally designed to help advance engineering after USC alumnus and venture capitalist Mark Stevens and his wife, Mary, donated $22 million to the campus unit.
…
In the spirit of innovation, Provost C.L. Max Nikias also announced he wants to develop in the next year a minor in innovation for all doctoral students, regardless of their discipline. "I want innovation to be the signature for the USC PhD diploma," Nikias said. To oversee the institute's new effort, USC officials last year recruited Krisztina Holly, a former director of an innovation center at the Massachusetts Institute of Technology.
…
If one of USC's 33,000 students has an idea, he or she should contact the institute that is housed in the Andrew and Erna Viterbi School of Engineering and speak with an innovator developer to determine if the idea has merit.
Related: Future of Engineering – Entrepreneurial Engineers – Innovation related blog posts
What Makes Scientists Different :-)
Posted on March 30, 2007 Comments (6)
From the excellent xkcd comic – The Difference: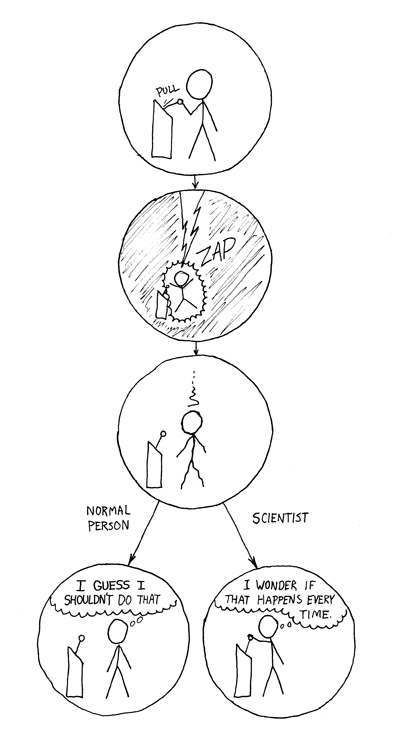 Warning: this comic occasionally contains strong language (which may be unsuitable for children), unusual humor (which may be unsuitable for adults), and advanced mathematics (which may be unsuitable for liberal-arts majors).
More on Disappearing Honeybees
Posted on March 29, 2007 Comments (0)
Mysterious deaths of the honeybees
Beekeepers throughout the United States have been losing between 50 and 90 percent of their honeybees over the past six months, perplexing scientists, driving honey prices higher and threatening fruit and vegetable production.
At a House Agricultural Subcommittee hearing in Washington, D.C., today, members of various organizations came together to share their concerns about what they have been calling the "Colony Collapse Disorder," or CCD. Beginning in October 2006, beekeepers from 24 states reported that hundreds of thousands of their bees were dying and their colonies were being devastated.
Related: Bye Bye Bees – Mystery Ailment Strikes Honeybees – Bye Bye British Bees Too
Global Technology Leadership
Posted on March 28, 2007 Comments (2)
US 'no longer technology king':
Countries were judged on technological advancements in general business, the infrastructure available and the extent to which government policy creates a framework necessary for economic development and increased competitiveness. The Networked Readiness Index, the sixth of its kind published by the World Economic Forum with Insead, the Paris-based business school, scrutinised progress in 122 economies worldwide.
Despite losing its top position, the US still maintained a strong focus on innovation, driven by one of the world's best tertiary education systems and its high degree of co-operation with industry, the report said. The country's efficient market environment, conducive to the availability of venture capital, and the sophistication of financial markets, was also given recognition.
Related: WEF Report – Innovation Economy – USA Still Leads In Innovation – The World's Best Research Universities – Asia: Rising Stars of Science and Engineering – European Innovation Scoreboard – Aussies Look to Finnish Innovation Model
Schoolgirls Find Vitamin C is Missing
Posted on March 27, 2007 Comments (0)
Schoolgirls rumble Ribena vitamin claims:
"We thought we were doing it wrong. We thought we must have made a mistake," Anna told New Zealand's Weekend Herald. The girls were both 14 and students at Pakuranga College in Auckland when they did the experiment in 2004. Given Ribena's advertising claims that "the blackcurrants in Ribena have four times the vitamin C of oranges", they were astonished and wrote to the manufacturers, GlaxoSmithKline (GSK). When they got no response, they phoned the company, but were given short shrift. "They didn't even really answer our questions. They just said it's the blackcurrants that have it, then they hung up," Jenny said.
But then the girls' claims were picked up by a TV consumer affairs programme, Fair Go, which suggested they take their findings to the commerce commission, a government watchdog. GSK said the girls had tested the wrong product, and it was concentrated syrup which had four times the vitamin C of oranges. But when the commerce commission investigated, it found that although blackcurrants have more vitamin C than oranges, the same was not true of Ribena. It also said ready-to-drink Ribena contained no detectable level of vitamin C.
GSK is in court in Auckland today facing 15 charges relating to misleading advertising, risking fines of up to NZ$3m (£1.1m). In Australia, GSK has admitted that its claims about Ribena may have misled consumers.
Good job. Related: Science Fair Project on Bacterial Growth on Packaged Salads
Virus Traps
Posted on March 27, 2007 Comments (0)
Scientists Explore Ways to Lure Viruses to Their Death by Carl Zimmer:
Viruses invade a cell by latching onto certain proteins on its surface. Once attached, they can slip inside the cell and manipulate it into making new copies of themselves. But viruses cannot infect red blood cells. Unlike most other cells in the body, as red blood cells develop in bone marrow they lose their DNA. If a virus ends up inside a red blood cell, there are no genes it can hijack to replicate itself.
"It occurred to us that if a virus bound to a red blood cell, that was a dead end," said Dr. Robert W. Finberg, a professor at the University of Massachusetts Medical School.
…
To test the model, the scientists mixed normal bacteria with different levels of mutant traps and then infected them with viruses. After letting the viruses replicate, the scientists took a small sample to start a new colony. They discovered there was indeed a trap threshold above which the virus population could not survive. Above that threshold, the viruses disappeared by the time the scientists started the third round of colonies.
Related: Old Viruses Resurrected Through DNA – Virus population extinction via ecological traps
Open Access Science Education Journal
Posted on March 25, 2007 Comments (0)
Science in School is an open access journal focused on science education published quarterly.
Science in School aims to promote inspiring science teaching by encouraging communication between teachers, scientists, science teachers and everyone else involved in European science education. Science in School addresses science teaching both across Europe and across disciplines: highlighting the best in teaching and cutting-edge research. It covers not only biology, physics and chemistry, but also maths, earth sciences, engineering and medicine, focusing on interdisciplinary work.
The contents include teaching materials; cutting-edge science; education projects; interviews with young scientists and inspiring teachers; European education news; reviews of books and other resources; and European events for teachers.
The latest issue includes: Silky, stretchy and stronger than steel by Giovanna Cicognani and Montserrat Capellas (on spider silk), A fresh look at light: build your own spectrometer by Mark Tiele Westra, Fair enough? Balanced considerations for future science-fair organisers by Eva Amsen and Fusion in the Universe: we are all stardust by Henri Boffin and Douglas Pierce-Price.
Related: Open Access Education Materials – Science Education Web Sites – Open Access Engineering Journals – primary and secondary school science and engineering education post
Engineering Students Design Innovative Hand Dryer
Posted on March 25, 2007 Comments (2)
Engineering students design innovative hand dryer:
Two engineering students at the University of Iceland have designed an innovative hand dryer, which is powered by hot water and uses only ten percent of the energy that conventional hand dryers need.
…
The students' instructor, Thorsteinn Ingi Sigfússon, a professor in physics, got the idea for the hand dryer. The students received a grant from The Icelandic Student Innovation Fund to develop his idea.
..
The water goes through a process of metabolism when it comes in touch with a special heating element inside the hand dryer and changes into air, which is blown out of the hand dryer with a fan, as described by one of the designers, Hildigunnur Jónsdóttir.
Related: Engineering Students Design Artificial Limb – Inspiring a New Generation of Inventors – Engineering Student Design Baby's High Chair – Engineering Students Design Concentrating Solar Collector
The sub-$1,000 UAV Project
Posted on March 24, 2007 Comments (1)
The sub-$1,000 UAV project by Chris Anderson:
This summer my project will be to come up with a set of resources and instructions that will allow regular non-engineer people (and kids) to put together a drone for less than $1,000 that has most if not all of the functionality of this $10,000 beauty. The DraganFlyer autonomous helicopter platform shown above starts at just $2,400, and these guys seem to have made good progress on the essentials of a $500 helicopter UAV
Very cool. Hopefully we can post an update on the progress.
Albatross is an open source unpiloted aerial vehicles (UAVs) project (March 21st, 2007: "unfortunately this project has to be put on hold… We are seeking opportunities to combine our work to date with other ongoing UAV research and projects, before it becomes hopelessly obsolete"). Paparazzi is an open source project for an autopilot system.
Related: Autonomous Flying Vehicles from MIT – MIT SWARM project
Navigating Through The Bloodstream
Posted on March 23, 2007 Comments (0)
Can you guess if this is a journal article or press report based on the title: Automatic navigation of an untethered device in the artery of a living animal using a conventional clinical magnetic resonance imaging system? Yes it is a journal article:
The feasibility for in vivo navigation of untethered devices or robots is demonstrated with the control and tracking of a 1.5 mm diameter ferromagnetic bead in the carotid artery of a living swine using a clinical magnetic resonance imaging (MRI) platform. Navigation is achieved by inducing displacement forces from the three orthogonal slice selection and signal encoding gradient coils of a standard MRI system. The proposed method performs automatic tracking, propulsion, and computer control sequences at a sufficient rate to allow navigation along preplanned paths in the blood circulatory system.
Pretty cool. See more interesting papers and information from the NanoRobotics Laboratory including online videos and more info online.